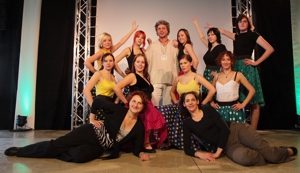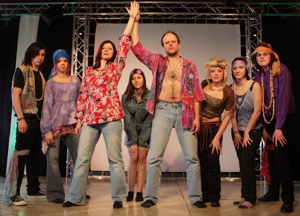 Johnny Be Good - tonight!
A Tribute To Johnny Starr
50 years of music history in one musical!
The Dream-Music-Company has produced a witty and exciting story on the fictitious life of Johnny Starr, an Austrian musician who reaches world fame in his short life. Thrilling til the end, the story is accompanied by songs from five decades of music history.
The story:
In memory of Johnny Starr, the great Austrian musician who in his short life rose to world fame, a gala evening is presented on TV on the occasion of his 60th birthday. The team working for prominent TV host Sunny Strewsitz has spent great time and energy tracking down and inviting Johnny's most important friends and acquaintances as guests to the show, letting them tell of their memories.
Johnny Starr was born as Johannes Peter Sternthaler in Ried/Innkreis in 1948 as a GI's son. After his father was relocated, the boy and his mother moved to Munich. As early as at age 12, Johnny performed in front of the camera as 'Geissenpeter' in the initial German language version of 'Heidi', using the pseudonym Peter Stern. More roles immediately followed.
In order to shed his image of the cute kid, he moves to Hollywood and, at age 17, quickly rises to stardom as rock'n'roll teenage star 'Johnny Starr'. He wins 24 golden records within the course of just three years and tours all over Europe.
In 1968, he plays one of the main roles in the German premiere of the musical 'Hair' and is discovered by American producer Daniel Gibb. Gibb takes Johnny to America, where he makes a sensational start of his career as rock musician at the Woodstock festival in 1969. A few wild years follow (sex, drugs, and rock'n'roll).
When starring in a guest performance in Germany in 1971, he meets Xenia, his great love. The affair is widely considered scandalous, especially when Xenia becomes pregnant at the tender age of 17 – by Johnny Starr! But to everybody's surprise, Johnny admits his responsibility towards Xenia and the child, and they both become the jet set's dream couple for a long period of time. Until, that is, Xenia makes the totally unexpected move of leaving Johnny in order to marry an English duke.
In July 1975, a plane crash occurs at JFK airport, leaving 115 of the 125 passengers dead. Allegedly, Johnny Starr was among the dead – his body, however, could never be identified. For this reason, numerous rumors concerning his fate have never quite died down, and a great number of wild legends about his life are spread to this day.
Will the hosts of the gala show be able to shed some light on these rumors?
The songs:
Glenn Miller Medley:

Pensilvania 6-5000
Chattanooga Choo Choo
In The Mood

Schlager music medley:

Ich will keine Schokolade (Trude Herr)
Mit 17 hat man noch Träume (Peggy March)
Schuld war nur der Bossanova (Manuela)

Go, Karli Go (EAV)

Medley with music from 1965-1969:

Marmor, Stein und Eisen bricht (Drafi Deutscher)
Monday, Monday (The Mamas And The Papas)
Rote Lippen soll man küssen (Cliff Richards)

Puff, The Magic Dragon (Peter, Paul & Mary)
I Say A Little Prayer (Aretha Franklin)
I'm So Excited (Pointer Sisters)
Medley from the musical Hair:

Aquarius
Let The Sunshine In

Atlantis (Donovan)
Out Here On My Own (Fame)
San Francisco (Scott McKenzie)
Woodstock Medley:

Spirit In The Sky (Norman Greenbaum)
Rubey Tuesday (Rolling Stones)
The Night They Drove Old Dixie Down (Joan Baez)
Pinball Wizard (The Who)

Let Me Entertain You (Robbie Williams)
Walk Of Life (Dire Straits)
I Know Him So Well (Chess)
Staying Alive (BeeGees)
Sex Maschine (James Brown)
From New York to L.A. (Patsy Gallant)
Johnny Be Good Tonight Show:

Johnny Be Good (Chuck Berry)
I Can't Help Falling In Love (Elvis Presley)
Schabernak (Misthaufen)
You Are The Sunshine Of My Life (Steve Wonder)

Walking On Sunshine (Katrina And The Waves)
Thank you to the students of FSB Stockerau and the director of this school's theater group, Mrs FOL Marietta Bohn, for the wonderful cooperation!
[Click here for photo album on Flickr]