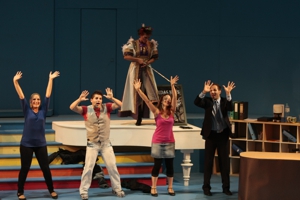 !!! The Overwhelming Audience Success !!!
JORDAN - The Gospel-Musical
The Story:
When his boss passes away, Jordan Ritter, anchorman of a small local TV station, is finally presented with the opportunity to realize his own ideas of TV journalism – and these ideas revolve exclusively around the ratings. The new journalistic concept of 'Judas News', an innovative mixture of American bible TV and Larry King, is viewed with high skepticism by his employees. However, they initially defer to their superior.
Someone doesn't like this at all! Avenger angel Ezrael, somewhat underchallenged ever since the events at Jericho, has finally had it with Jordan's evil deeds. The balance between the good and evil forces on earth is at the highest danger of being thrown off kilter. He decides to get involved and to punish Jordan Old Testament-style, and is only stopped just at the last moment.
Ezrael's unauthorized meddling in the affair raises an old controversy between archangel Raffael and fallen angel Samael, finally resulting in a bet on the fate of Jordan's soul. Hell is given three days to win Jordan over once and for all – due to Ezrael's infringements, heaven, however, is only permitted to give Jordan a warning, but can't take any further action. Samael is confident of victory – which may shift the power balance in hell's favor!
However: Will heaven play fair as promised? To ensure victory, hell sends Charlotte Kain to join Felix Levi, already in the field, with the mission to seduce Jordan with the offer of making him television's shooting star. Through their help, his new show is supposed to make his channel the most important and lucrative TV network of all time.
The plan seems to work out as Jordan ignores all celestial warnings of losing everything and everyone he loves if he keeps following this path. The new star treats his employees, and even his friend Adam, in the most condescending way and keeps zinging them until they all quit in total frustration. He even treats his assistant Sophie, who adores him, like air and finally loses her support, as well. And his daughter, initially on his side, walks away, too, when she becomes the target of the wrath of everyone involved, the last straw being her father's carrying on with Charlotte.
But Jordan seems bound and determined to continue on his way.
Just before the grand opening show, events take a surprising turn when an unexpected party gets involved.
The Songs:
Rock Of Ages
We Are Going Down Jordan
Ninety and Nine
Joshua Fit The Battle Of Jericho
Higher and Higher
Let The River Run
Put Your Hand In The Hand
Lean On Me
Give Me That Old Time Religion
Old Man Moses
Take Care Of Me
Mamy Blue
The Gospel Train
Promised Land
I Still Have Not Found What I'm Looking For
Rock My Soul
Swing Low, Sweet Chariot
Nobody Knows The Trouble I Have Seen
Wade In The Water
Oh Happy Day
[Click here for photo album on Flickr]
Excerpts from the performances of 2011 and 2012 (amateur videos)